Spring is right around the corner!  Every season holds a beauty of its own, but the newness of spring always makes me think of the words of Isaiah 43:19,
"Behold, I am doing a new thing!  Now it springs up; do you not perceive it? I am making a way in the wilderness and streams in the wasteland."
With the trees budding, the grass and fields around us greening, the Bradford Pear trees knocking themselves out with blossoms, I am filled with all the newness.  Such a hopeful, promising time.  It makes me excited to see what other new things are waiting right around the corner!  God is good!
Celebrate the newness with me by right clicking and printing the image below for your own coloring fun.  It is a redo of a portion of this verse, which I have done before.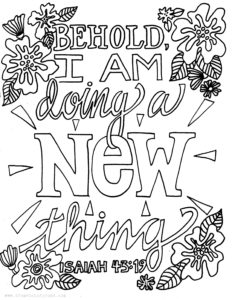 Hope a lovely, restful day and enjoy the newness of the week!