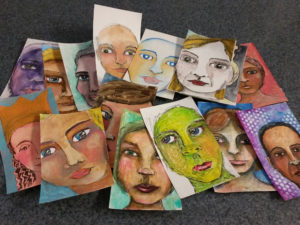 "Until you see beauty everywhere, 
in every face, 
until then, 
you are blind." 
― Kamand Kojouri 
I got this quote from Tracy Verdugo's website… specifically her Face Fascination online class information page.  I am beyond excited to be signed up for her upcoming workshop all about FACES!  As many of you know, this is my second year of attempting to do 365 faces throughout the year.  There is just something about the human face that draws and intrigues me.  Beautiful faces, interesting faces, wrinkly and wonky faces…they all are just so expressive, and the first thing our eyes are drawn to about a person.
Can't wait for July when the online class starts… maybe I should go warm up with some face making…
Shown are faces 137 – 151 of my 365 faces.  I thought this last batch would get me ahead again, but I am still 5 days behind!  Oh well… I will get there eventually!