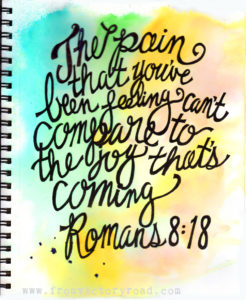 Whether experiencing physical pain or emotional pain, this is such a sweet promise to hang on to!  If you would like to color your own, feel free to download and print the coloring page below!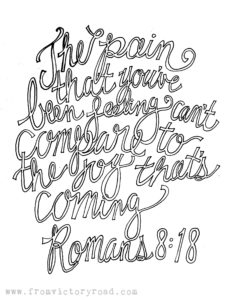 I often use coloring pages as a place to experiment a little with different products or techniques.  This week I opted to paint in all of the words (in my mixed media sketchbook) with a permanent frisket by Windsor and Newton.  My plan was to leave the words white with a colorful watercolor background around them.  So I patiently painted in all the letters….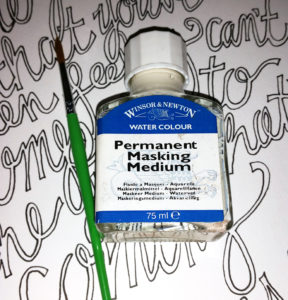 Then I lightly sprayed and brushed the paper with water, and applied paint with my fun Jane Davenport watercolor brush pens.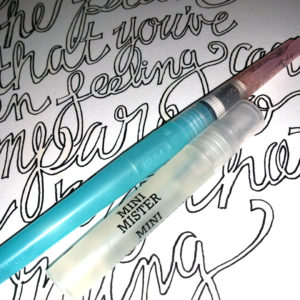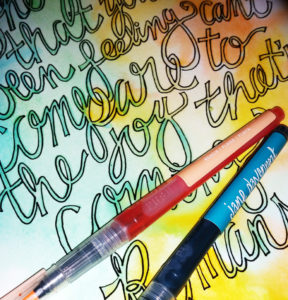 But while the letters took the paint differently, they didn't remain white as I had hoped.  So then I decided to paint in the letters with a darker watercolor.  I knew the paper needed to be dry so the paint wouldn't bleed, so I used a heat gun to dry the page.  Then this happened: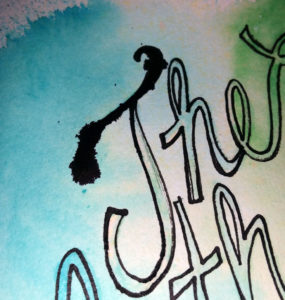 While the surface felt dry, apparently it wasn't dry enough.  I think also the paint did not absorb on top of the masking medium.  Hmmm…. I could throw out the page (which means put in my scrap pile for later reuse) or persevere!  I pulled out my trusty black Sharpie water based paint pen, and tried to patch things up.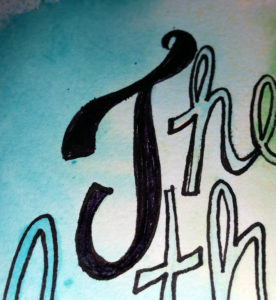 Not perfect, but passable, so on I went!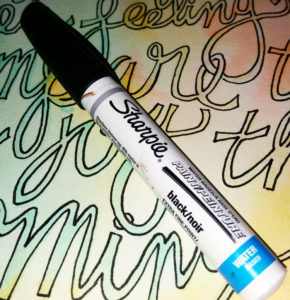 This is so often the process in art, especially when you try new things.  But without risking messing up or outright failure, I would stay stuck in the same old ways of doing things and never be able to find great ways of doing things!
So play around with your coloring page and take some risks and try something new!