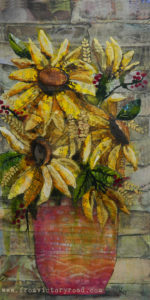 In this piece I combined a Citra Solv grungy sort of background with collage with my new to me drippy flower technique.  The vase is some rice paper from my stash that I "painted" with some hot wax, then washed with some watery acrylic.  The wax patterns acted as a resist leaving transparent areas on the rice paper.  I made several of these papers because they were so fun, and was happy that this piece found its way into some artwork.
I really enjoy how all these diverse techniques find their way into a piece of artwork where they compliment each other.  If only we could get the rest of the world to work that way!
Hope you have a great day!