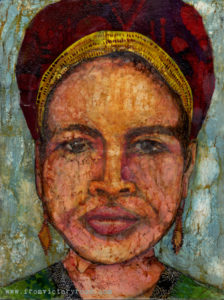 One of my joys in art making is experimenting with new to me techniques and materials.  "Survival", on an 9 x 12 cradled wood panel is one of those experimental pieces.  It started as a painting, to which I added a fabric turban and blouse.  The I decided I wanted to give it an encaustic finish, so I used my thrifty version of encaustic which is a mix of paraffin, beeswax, and encaustic medium (beeswax plus damar resign), giving me an acceptable compromise between quality and price of materials.
After coating the piece with my wax mixture, I scribed into it with a skewer in select areas where I wanted to add some definition.  Then I rubbed my black Shiva oil stick into it and buffed off with a clean cloth. I finished up with my favorite part… coating with amber shellac then lighting it on fire while wet, a technique I have seen various encaustic artists do.  As it burns off it creates an interesting amber colored pattern on the surface.
I chose the name "Survivor" because this woman has had the works done to her and literally passed through fire and survived!  (though she did suffer a slightly scorched area by her nose!)  I will be using these experimental techniques again!
What do you like to play with while doing experimental art?