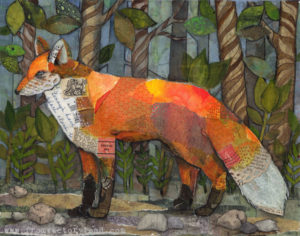 I am privileged to be involved in an intimate and delightful show in a private home in a secluded, woodsy location.  The home has been dubbed Studio in the Woods, and over the years has been home to all kinds of artistic endeavors, supporting the arts in multiple ways.  The fox is somewhat a mascot of this environ and can be spotted throughout the interior as a statue here, and painted on the walls over there.  Hence for this final show to be held here I felt that I needed to do a fox, an animal that shows up time to time in my artwork.  This particular pose is from a sketch I did after a red fox paused for just a moment while dashing across the country road near where I live.
I used portions of my new 12 x 12 "Simply Tree's" stencil in the background. Here is another piece I made using the same stencil in a different way.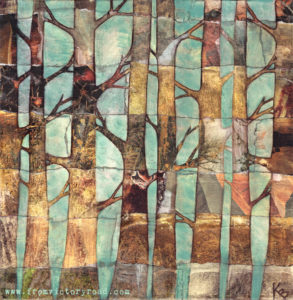 As usual, I have lots of fun picking out just the right scraps and bits to include in my collage.  This piece has bits from the fox entry of dictionaries, and the Minnesota canceled stamp makes me think of the trip we took to that state to visit my daughter and the woods we saw there. The bit of handwriting on the chest of the fox is from an increasingly rare handwritten letter. An example of how every little aspect of my life becomes elements in my artwork.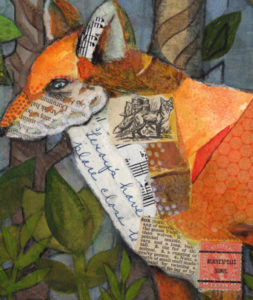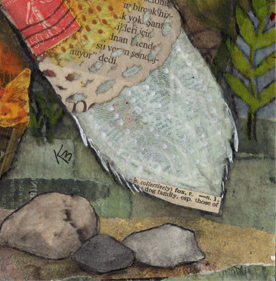 The collage and paint "In the Woods" is on an 11 x 14 cradled wood panel.  Prints are available here, just put the name of the print, "In the Woods" in the comment section when ordering.