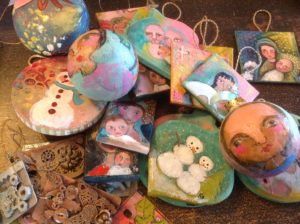 This last week I taught a couple of classes on hanmade ornaments, and thought I would share some of the fun with you as well.  Here are some quick and easy ideas for handmade ornaments to dress up your tree and give as gifts:
 Paper mache – cover an existing plain jane ornament ball with torn newspaperor other pages, and mod podge.  Then paint as you wish!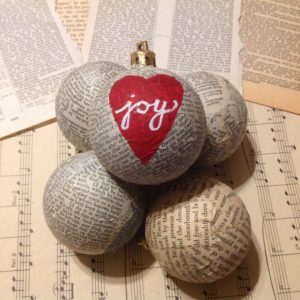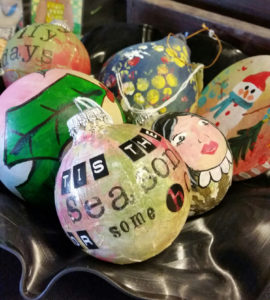 2.  You can also paint some mini masterpieces on tiny little canvases like these.  Simply glue felt on the back with a ribbon sandwiched in between for hanging.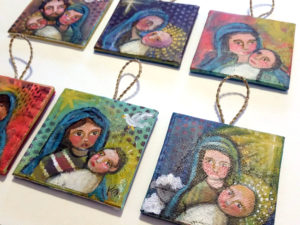 Instead of canvases, formica samples make a great surface to work on. I added beads and a wire to mine.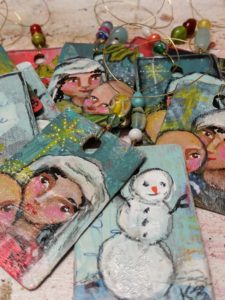 3. Using those same formica samples, and some treasures from the junk drawer, make little mini assemblages.  After gluing all the pieces on with a strong glue like 6000, coat first with gesso, then with paint, and finally buff on some metallic sheen.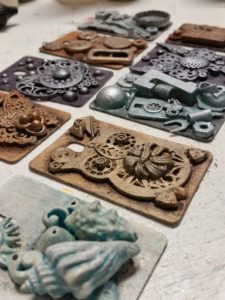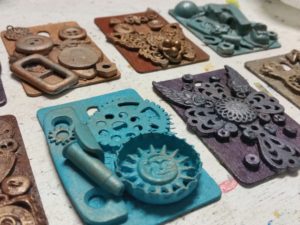 Hope you enjoy these three easy little ornaments, and have your own fun with crafting something new for your tree!