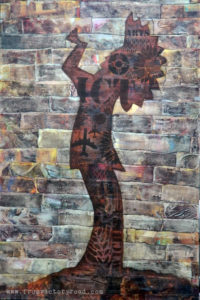 The final Friday of every month is when Wichita area galleries and shops participate in an art crawl.  Tonight I have a new wall of art up at Tessera Gallery including "Keeper in Brown", "ICT Over the River" and other Kansas themed pieces in anticipation of Kansas's birthday on January 29.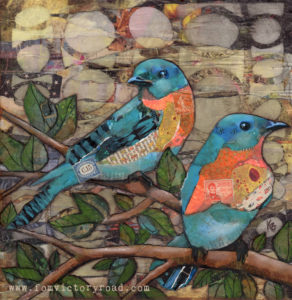 It is also the opening for next door Gallery XII's Crazy Eights show where all of the pieces are either 8 x 8 or 12 x 12 inches.  My entry is "Travelers" a 12 x 12 inch mixed media Citra Solv collage of two bluebirds with a variety of foreign stamps included in the papers that make up their bodies.
"Travelers" has sold, but "Keeper in Brown" is still available!