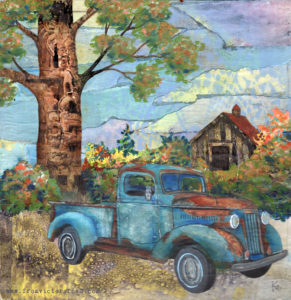 Today marks the 157th birthday of my home state of Kansas.  Old McDonald's Farm was created to commemorate this day. I haved lived in the country and in Kansas most of my life, so when you say Kansas, this is the kind of scene I think of.  I think of my aunt Nellie's fried chicken, and try not to think of the live creature that was flapping around the barnyard earlier that very day.  I think of my aunt Dorothy's apricot cobbler from the apricots she picked right in her own backyard.  I think of hardy people who made do with what they had, like old pick up trucks kept running with the help of bailing twine and wire.  The stories those old pickup trucks could tell!
Old McDonald's farm is a mixed media Citra Solv collage on a 12 x 12 inch wood panel.  If interested in it, contact Tessera Fine Art Gallery at (316) 262-2435.
Here is my gallery wall these days….