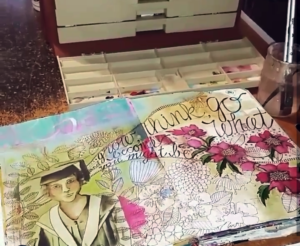 Spread #6 in my second journal of the year is all about the graduate.  I used a favorite vintage photo of a very determined looking woman wearing a cap and gown to make an image transfer using Silk Inkjet transfer sheets by Jacquard. The process is simple following package directions, but apparently my printer was low on black ink and printed onto the fabric in a funny lime green.  Not wanting to waste the sheet, I did what I do with all other manner of interesting bits… put it into my junk journal!
I started with this spread, which among other scraps of painted papers, has sheets from Sabrina Ward Harrison's not so blank guided journal "The Story is Happening".  It is so much easier to jump into your journal when the pages already have something on them!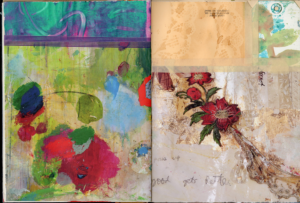 I chose this spread for my green cast graduate for the simple reason that there was already some green on the page.  I doodled flowers and words and added more paint to tie it all together.  I am calling the page done, but as you can see, there is still some area at the top of the page that I might decide to add to one day.  That is how my journals run.  They are an ever changing book that evolves along with my life and interests.
The "finished" page: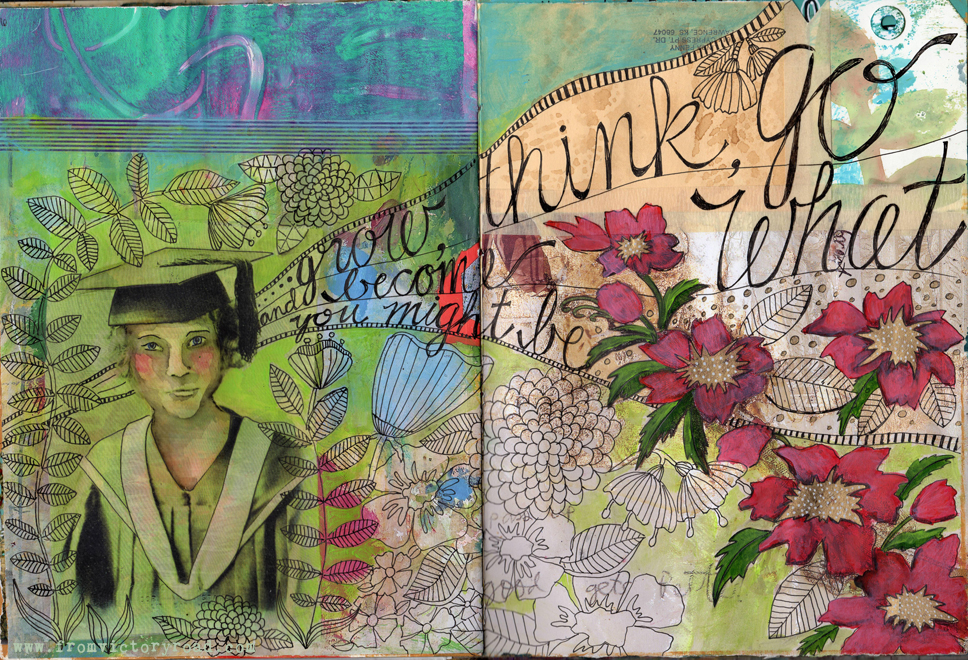 Would you like to work in your own junk journal?  There is a large, or small, handbound by little ol' me junk journal waiting for you!
Large journal with textured gold cover filled with painted papers, old calendars, file folders, and all kinds of other delightful "junk".
Small journal with a hand painted cover and painted canvas spine, also filled with all kinds of fun to start you on your artful journey!
As you can imagine, these one of a kind journals take a bit of time, so not many get made and listed!
Happy creating!