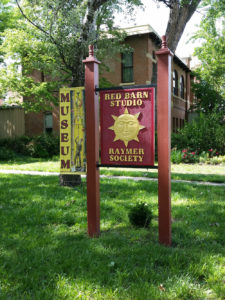 A few years ago I discovered Red Barn Studio, the studio/museum/gallery of the late artist Lester Raymer.  I was especially drawn to him because not only did he delve expertly into a wide variety of media, he was also a master of using repurposed materials.  I have visited the studio several times since then, both as artist in residence and as a tourist, but never in the month of December when they pull out his amazing Christmas toys and Nativity scenes. This year I finally made it there during December, and was not at all disappointed!
My photos are horrible, with only an ipad and no flash, but you can fill in a bit with your imagination! Here are a few of my favorites:
The Russian style nativities probably top my list.  There is so much rich detail in these!  I love that one of the wise men in the first is riding an elephant!
The toys are quite amazing, with many moving parts. I really liked these jack-in-the-boxes: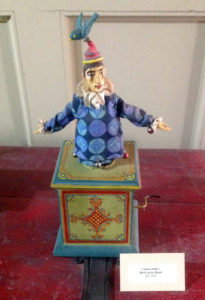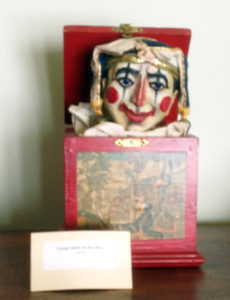 And this roly poly toy far exceeds any other I have seen:
I am not sure if this one was a doll, or a puppet, but I suspect the later because all of his toys seem to do something.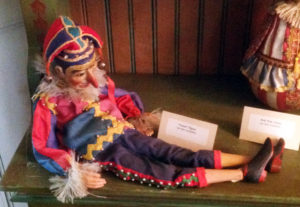 And last but not least is this wind up walrus.  What a fun looking creature!  I am going to have to add the walrus into a piece of my own art sometime!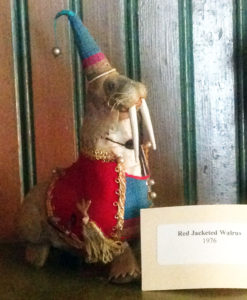 These are extra appealing to my because Mr. Raymer used everyday materials to make his beautiful creations.  Scraps of wood from the local lumber yard, bits of fabric, erasers, empty wooden spools, and so much more if you look closely.  I wish I could have just sat in a corner and watched him work!
If you want to see more of the toys, or just better images, contact the Red Barn Studio and order a DVD that shows many more of them and how they work.
raymer@redbarnstudio.org