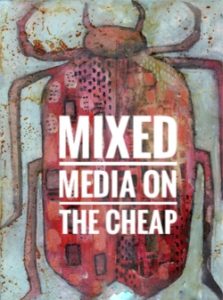 February workshops start off tonight with Mixed Media on the Cheap, Encaustic Style at Dillon Nature Center in Hutchinson, Kansas. We will use an encaustic beetle project to explore some of the low cost alternative supplies that can be used in art making.  My favorite supplies come from the hardware store, and the dollar store. So many fun textures, surfaces, stencils, colorants, and more can be found there, and we will use them to make our own beetles! (or critter of choice)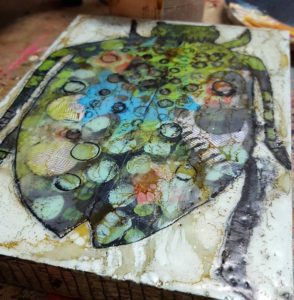 I had to make just one more beetle myself before packing up the workshop supplies!
Later this week will be another of my favorite classes… Musical Easels!  This one will be at Tessera Fine Art Gallery in Wichita, Kansas.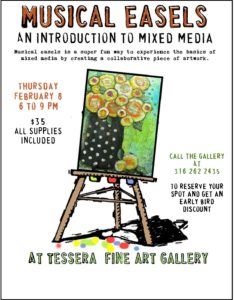 In this class we go through the steps I take to create a floral still life like the one below, but we shift art at each step!  By the time we take our finished piece home, several of our classmates will have also worked on it.  This is a great way to stretch our letting go muscles and send ourselves in new directions!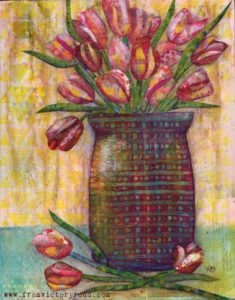 On February 17, I will be teaching two back to back workshops, again at Tessera Fine Art Gallery.  The first will be from 9 am to noon and is called "A Matter of Perspective". In it we will cover the basics of one, two, and three point perspective and will do a little urban sketching.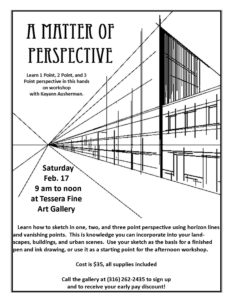 That will be followed by Wash Away in the afternoon session where we will use a tempera resist on our urban sketch to create a cool india ink and color glazed piece.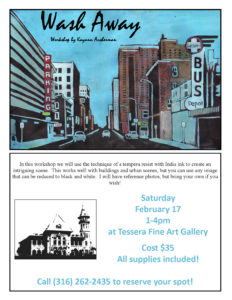 That will be it for February workshops… but here is a sneak peek of what is coming in March at Tessera Gallery.
Watercolor in the Mix on March 11, 2-5pm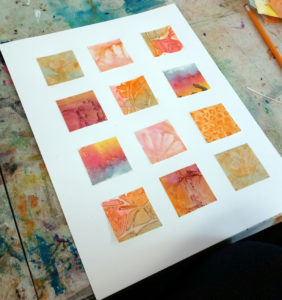 Color Theory on March 17, 9am to noon.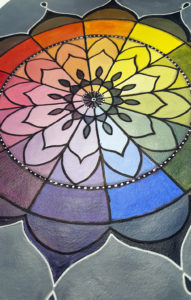 And on March 17 from 1 to 4pm will be drippy, fingerpainted flowers!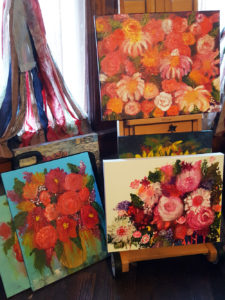 The climax of March's workshops will be a 4 day workshop called "Explorations in Mixed Media" at the Topeka Art Guild where we will learn some of my most used techniques in my own art making!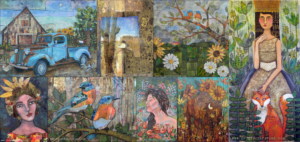 So much fun arting, and so many friends to share it with!  Hope to see you at some of these!
Be watching for more details!