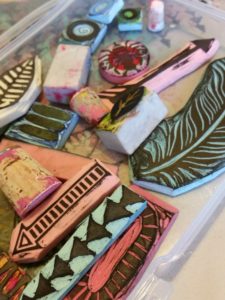 I have accumulated a number of simple little hand carved stamps over the years that I use in my mixed media art and journals, but would also be great for scrap booking, card making, and a number of other craft projects. They are fun and easy to make and I look forward to sharing what I have learned in an upcoming workshop at Tessera Fine Art Gallery in Wichita.
There are a number of different materials that can be used to make stamps, and they all have their pros and cons.  At the workshop, participants will have the opportunity to try out different materials and techniques so they can find what best suits their own style and budget.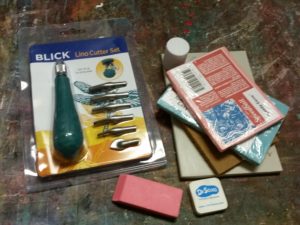 Everybody will get a great pack of supplies to use, and a take home informative, full color, handout.
In the class we will make simple shape stamps that can be put together in fun ways. We will also cover transferring images, making two part stamps, photo stamps, and repeating stamps.
One repeating stamp can make two Moroccan style tiles!
My personal photo…stampified!
The afternoon session will build and expand on what we learned in the morning and include using stamps to do block printing.  Hope you all can come!