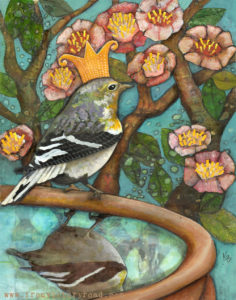 Meet "Prince Goldfinch".  He is an 11 x 14 inch mixed media piece on paper, soon to be framed.  This is the second piece I have done from the same reference photo.  I love the way he has his back turned to his reflection in the birdbath and is instead facing out toward all the beauty and adventure that awaits him.  That is what inspired the crown on his head.. he just seems to have a regal confidence that I want to communicate in the piece.  If we but take our eyes off of ourselves, great things await!  I transferred on some of my Citra Solv "bubbles" which I have come to identify with some magical quality.
So, I am greeting this week like this handsome prince.. head high, eyes forward, ready to greet whatever the week holds!
Hope you have a great one!
Prints available on etsy. Contact if interested in the original.