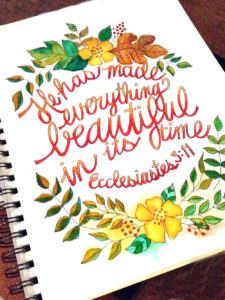 With the change of seasons this week, at least according to the calendar, I was talking with my grandchildren about their favorite season.  We all started naming the most wonderful aspects of each of the seasons, and that brought to mind this line from Eccl. 3:11:
 "He has made everything beautiful in its time."
So of course that was the theme for a coloring page, free to download and print for your own coloring fun.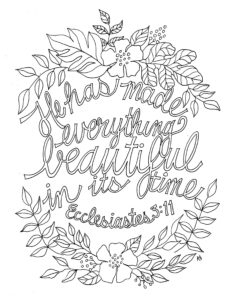 But that's not all!  For those of you who are not into coloring your own, I am gifting you with an image that you can print and is ready to frame!  I used Jane Davenport's Mermaid watercolor brush pens to color.  It is sized to 8 x 10 to fit in a standard sized frame.  Hope you enjoy!