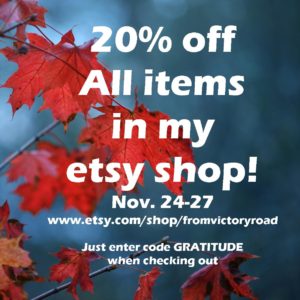 I am soooo thankful for all of you, because without you I would not be able to make as much art as I do!  For the next four days, that gratitude comes as a thank you sale in my etsy shop.  From the comfort of your own home, or at least away from the shopping crowds, you can enjoy a black Friday, small business Saturday, and Cyber Monday all wrapped into one sale!  Because I try to keep my prices low to start with, I don't offer these sales often…. so this weekend is the time to jump on this!  I will be listing more goodies through the weekend, so keep checking back!  You can use the coupon code over and over!
To use the coupon code, select your items, then when checking out, enter GRATITUDE in the place provided for the coupon code and your discount will automatically be taken.  Happy Shopping!
After barely getting our tree up in time for Christmas last year, I am very excited that we actually got our tree up, AND decorated, last night!  We have been building a sun porch using an assortment of glass paned doors as our windows/walls, and while it is far from completed, it is all closed in so we can enjoy our new space!  The room is large enough for our family holiday gatherings and we initiated it yesterday with our Thanksgiving dinner!
For those of you who are brought sadness and stress by the holidays, my heart goes out to you and I wish you comfort and peace this holiday season.