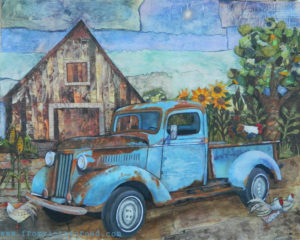 I have wanted to include a rusty old pick up truck in my art for a long time.  While at the Red Barn Studio working on Kansas themed work, I finally got a good start on one, finishing it up a few days after getting back home.  There is a lot to look at in this piece… corn, sunflowers, chickens, but the focus of it all is Old Blue the rusty ol' pickup truck.
Citra Solv papers play a prominent role on this 16 x 20 mixed media cradled wood panel. Part of the truck is Citra Solv altered paper, as is part of the rusty spots.  The barn and sky and dirt road are all Citra Solv altered paper.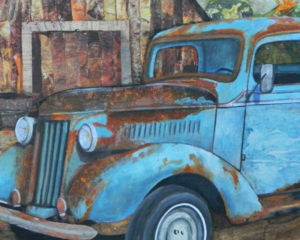 I imagine the chicken in front of the truck, the one with the musical notes, is an especially obnoxious clucker.  So much so the other chickens don't want to hang around with her.  Farm life is far from boring, and I can only imagine all the stories this truck could tell!
I had alot of fun with this piece, so I think there will be more pick ups on the near horizon!
This piece is already sold… but let me know if you are interested in prints or cards!