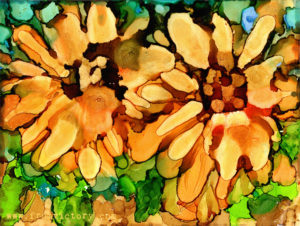 "Sunflower Flow"  9 x 12 inch alcohol ink on freezer paper.
I have been doing some preparing for an ink workshop, and reminding myself how fun it is to play around with alcohol inks!  I mostly use them to make pretty papers to use in collage, but have also been having some fun making flowers.  That is one thing I enjoy about teaching workshops, it motivates me to keep trying new techniques and materials.  This time around, I used a lot of homemade inks, which saves alot of money and makes me less stingy with my inks!
To make your own alcohol ink, simply mix any of these with 91% isopropyl alcohol (though I am just getting ready to do some experimenting with using ethyl alcohol as well).
liquid fabric dye
liquid watercolor
acrylic ink
acrylic paint (my favorite is Golden High Flow)
dried out or fresh markers
Bombay ink or other inks
Hope you  have as much fun with your inks as I have!