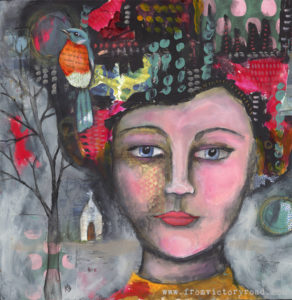 This kind of piece is so fun for me.  I planned for it to be a woman, and for her to have wild and funky hair, but other than that it was just play time for me, without any clear vision of how things would turn out.  This kind of art is very refreshing for me.  I rummage through my basket of paper scraps, choosing whatever catches my fancy.  I paint with my fingers and the piece changes and morphs.  I found the little church on a scrap that had  been a postcard print of another piece of my art.  The little bluebird had been made for another project and not used.  Just little bits of serendipity that all came together in this piece.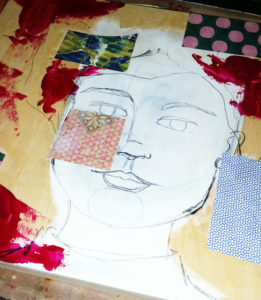 I used a mix of papers, stabilo pencil, acrylic, chalk pastel, and oil on a 12 x 12 cradled wood panel.
Prints available here. Contact me at victoryrd@hotmail.com if you are interested in the original.