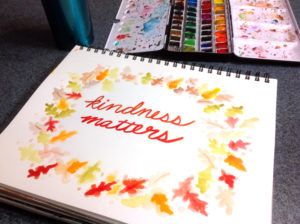 Not exactly a quote this Wise Words Wednesday, but a watercolor doodle from my sketchbook this morning.  I have been listening to my grandchldren bicker of the smallest and silliest of issues as children are prone to do, and I was thinking how adults do the same thing, just in more "sophisticated" ways.  How different might the world be if great or small we just spoke to one another in kindness?  What difference might it make if we just took a moment to look someone in the eye and smile at them? Or, to just pause in our hurried day to do something kind?  Shamefully, I have to remind myself to be kind, to take time to notice where there is an opportunity for kindness.
I love doing art as a meditation, there is something more powerful when my hand and eye joins my mind and heart in engaging with something.  Every night before bed, and morning when I rise, I try to spend at least a tiny bit of time in my sketchbook in order to process my thoughts.  According to Sunni Brown in her book The Doodle Revolution, doodling while we are listening to something increases our retention rate by 29%.  To me that means our brain cells are being more active, so if there is something we are processing, won't it go better if we are art making while we think?
So pull out some paper and spend just a little time doodling today while you are thinking about something!